-
EP
-
Southern UK indie-rock outfit
Beat Hotel
has finally released their self-titled EP via online platforms such as Spotify. Previously this 6-track offering was available only in physical format (CD and 12" vinyl) and via Bandcamp. They also present a new video for lead track 'Feel It'.
The 'Beat Hotel' EP features current and former members of The June Brides, The Loft, The Weather Prophets, The Distractions, Mudlow, Mojo Fins and Lolita Storm.

Based between Brighton and Plymouth, Beat Hotel was formed in 1988 by Arash Torabi (The June Brides, The Distractions, The Granite Shore) and Paul Pascoe following a gig by The Jasmine Minks' (first band signed to Creation Records). Many years later, their first released Beat Hotel single also featured The Jasmines' frontman Jim Shepherd.
Beat Hotel - Feel It (Video Edit)

"The idea for the record sleeve came from the photograph that our friend (D.C. Cane) had taken of the view from the top of a stairwell in an apartment building in Paris. It immediately made me think of the poster art for "Vertigo" and I really love all that 60s geometric design aesthetic. So I took that as our cue and it was me that put the design together," says frontman and producer Paul Pascoe.

"It was the lockdown that made me finally realize that I could get an animated video made without any physical human interaction being necessary and run with the whole "Vertigo" Hitchcock/Saul Bass graphics idea! Fortunately I know an amazing animation guy called Simon Hill and he made the idea come to life brilliantly. He incorporated the cover photo and we looked at the famous title sequence for Vertigo and also The Man With The Golden Arm and Casino. So Simon made our "falling man" and the whole thing works so well with the sentiment and lyrics of the song."

With a strong live presence locally, Beat Hotel recorded many demos, but did not release any recordings until 2013 with the double A-side 7" 'Best of Our Years / The Fire'. They were then permanently joined by Dave Morgan, drummer from The Loft and The Weather Prophets (two other Creation Records' artists), who also played with The Rockingbirds and recorded with The Jazz Butcher, Primal Scream, Vic Goddard, Subway Sect and ATV.

They were later joined by guitarist Stephen Brett after recording at the legendary Rockfield Studios and playing Glastonbury with his former band Mojo Fins. Stephen also performs solo as SJ Brett. Also guesting here is Frank Sweeney of The June Brides and now Magic City Trio, with a recordings to his name for Primal Scream, Felt, and Slaughter Joe.

This long-awaited release presents a melodic, psychedelic wall of sound, a touch of garage rock & roll and balanced with more laidback, strings-laden atmospheric vibes. Of these tracks, five are originals written by Paul Pascoe, plus there's a cover version of 'Beat Girl', originally recorded by ex-Loft member Bill Prince's band The Wishing Stones in 1986. Frank Sweeney from The June Brides (Arash has also been a member since their reunion in 2011) also added some stunning strings and piano parts on this track.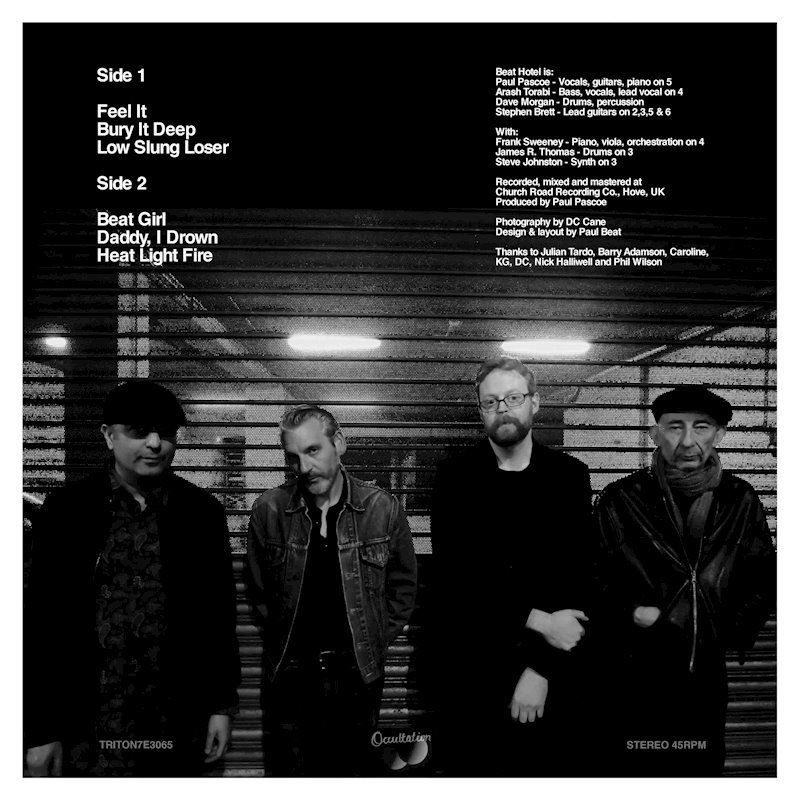 "Every now and again, we produce something that's very special to us. This collection of songs is about love and near-death and confronting the very worst aspects of ourselves, facing down those inner demons, the fears that haunt us and our deepest, darkest secrets. And… with one of the tracks beginning it's recording journey in 1997 and getting its final guitar overdub and mix in 2019 (in all it's 3 minutes 14 seconds of rock'n'roll glory), this record is also a tribute to the awesome power of getting shit done," says Paul Pascoe.

Recorded at Church Road Studios in Hove, this EP was produced, mixed and mastered by Paul Pascoe, the band's lead singer, guitarist and songwriter. Also a member of Brighton bands Mudlow, Palm Springs and Perfect English Weather, previous studio work includes the last 2 albums by Barry Adamson of Magazine / Nick Cave and the Bad Seeds' fame.

The 'Beat Hotel' EP is now available on 12" vinyl and digitally across online stores and streaming platforms like Spotify. The mini-album can be ordered directly from the band via Bandcamp. Any physical orders also come with MP3 download.

"Catchy, feel-good and memorable, not to mentioned polished in both delivery and production. Just the formula you want in a track that leaves a first impression on the listener. This is a band whose music captures the feeling of living in the whirlwind of love – one that is steadfast and timeless" – The Big Takeover Magazine

"Beat Hotel has achieved a fine balance of power pop, melancholic drifter elements, churning guitar vibes and nostalgic flashbacks" – The Spill Magazine

"Six tracks indebted to their heroes that really hit the mark" – Louder Than War

"A kind of pop circadian rhythm, providing another example of the potential power harbored within that ubiquitous palindrome, P-O-P" – Stereo Embers Magazine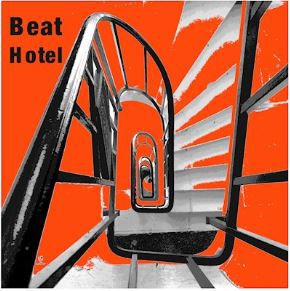 TRACK LIST
1. Feel It
2. Bury It Deep
3. Low Slung Loser
4. Beat Girl
5. Daddy, I Drown
6. Heat Light Fire

CREDITS
All songs written by Paul Pascoe, except 'Daddy, I Drown'
(written by Siena Barnes/Paul Pascoe) and 'Beat Girl' (written by Bill Prince)
Recorded at Church Road Studios, Hove
Produced, mixed and mastered by Paul Pascoe
Paul Pascoe - vocals, guitar and production
Arash Torabi - bass guitar and vocals
Dave Morgan - drums
Stephen Brett - guitars and vocals
Frank Sweeney - viola/keyboards
James Thomas - drums on 'Low Slung Loser'
Animation by Simon Hill
Typeface: Jean-Luc by Atelier Carvalho Bernau


Keep up with Beat Hotel
Facebook | Bandcamp | YouTube | Twitter
Soundcloud | Spotify | Vinyl order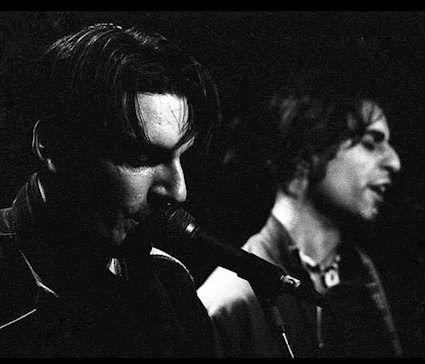 ©
Layout :
FRED Ils font l'Actu
...
FR 2017
-
2020
/
Transmitter :
Shameless Promotion
Music is not a virus! Admittedly, it contaminates you with the melody, the lyrics, but it can be bought, discovered, hummed, tickles the hollow of your ear, is released on your lips ... Think of the artists, they illuminate your daily life and feed the memory of pretty refrains which will become memories.



POUR LIRE L'ARTICLE EN FRANÇAIS, SÉLECTIONNEZ DANS LE TRADUCTEUR E

N HAUT A GAUCHE ANGLAIS PUIS FRANÇAIS