Self-recorded and produced, Abong's solo music has alternately been described as "ragged Replacements" and "Elliott Smith with balls". This new album was jointly mixed and mastered at Stable Sounds in Portsmouth, RI by Abong and producer Steve Rizzo, renowned for his work with Kristin Hersh, Throwing Muses and Cindy Wilson of The B-52's.

"These two videos for 'Invisible Man' play with the way visual imagery can alter the effect of a song. One video foregrounds the lyrics and music – the core components of a song. Here, the background images are just that – background - as they should be. The other video is a faux-film about the life of a mysterious being whose story has captured the imagination of 'the public', a public that has decided to weigh in on both his and the film's worthiness. Most importantly, the song takes a back seat to the imagery, which in my opinion is both ass-backward and an accurate representation of a primary focus of the music industry - image," says Fred Abong.

"I will always insist that songs should be experienced and 'understood' at the auditory level. We more readily detect falsity through what we hear than what we see. A con artist may flash a winning smile, but his voice will betray malicious intent. This is the danger of images; they are representations of something, not the thing itself. They arise out of and play upon the flexibility and malleability of the mind in order to create 'ideas' or 'knowledge' about the thing being 'imaged'. But these ideas may or may not be accurate. Manipulation is a strong possibility when images are involved. Songs are different. They are effusions of the heart, and the heart can't lie. Nor can it create images. It always tells the truth, even if the truth is that you're lying."

This album follows up Abong's 'Pulsing' EP, released in spring of 2019, and 'Homeless' EP (2018). Prior to the current pandemic, Fred toured the USA and UK with Kristin Hersh (both as opening act and as part of her electric trio), as well as playing several live dates with Throwing Muses. Abong also collaborates with art rock collective The Pull of Autumn, for which he contributed 'Vanishing Spell' and 'Equinox'.

Perhaps best known as bass player in the influential art-punk band Throwing Muses during the 'Real Ramona' period. Before recently returning to music, he spent roughly a decade in academia, completing a Ph.D. in Humanities and then working as an adjunct professor in the Religious Studies, Philosophy, and English Departments at various universities.

As of November 20, the full 'Our Mother of Perpetual Help' album will be available everywhere digitally. It can be obtained directly from the artist via Bandcamp.

"There is a purity and honesty in his approach that gets more and more intense with each track. It feels like you're riding a wave of energy" ~ Higher Plain Music

"Abong's delivery is powerful, yet humble. Succinct, but potent. Gloomy, yet grounded. Abong perfectly captures the zeitgeist of today in his music" ~ Amplify Music Magazine

"Thoughtful, minimalist, sometimes even bleak, but all the better for it. The ghost of Syd Barrett watches over everything" ~ Real Gone Rocks

"An almost painful intimacy to his words despite the oblique phrasing and imagery he conjures... no straight paths walked or unclouded emotions elicited" ~ Isolation Records

"An ascent out of singer-songwriter folk territory into something bordering on punk and psychedelia" ~ Fatea Magazine

"An expressive and unpredictable artist, Abong's songs have a certain heaviness to them, mostly due to the themes and the power in his voice and riffs" ~ Brighton's Finest

Fred Abong
Our Mother of Perpetual Help
20 November 2020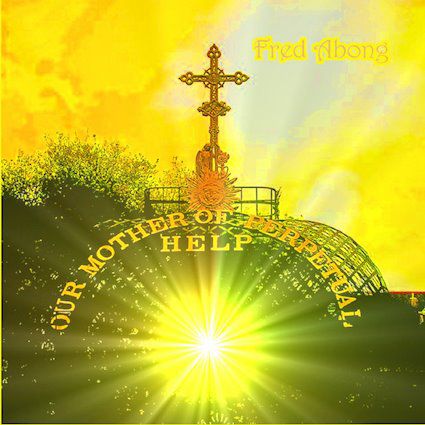 TRACK LIST

1. The Minit
2. OMOPH
3. Worm
4. Kissing Carnival
5. Electro Panic
6. The Lock
7. Cork
8. In Bed
9. Invisible Man
10. Capital P


Keep up with Fred Abong
Website | Bandcamp | Instagram | Twitter | Spotify
©
Layout :
FRED Ils font l'Actu
...
FR 2017
-
2020
Transmitter :
Shameless Promotion
©
All photos by
Kristin Hersh
Music is not a virus! Admittedly, it contaminates you with the melody, the lyrics, but it can be bought, discovered, hummed, tickles the hollow of your ear, is released on your lips ... Think of the artists, they illuminate your daily life and feed the memory of pretty refrains which will become memories.



POUR LIRE L'ARTICLE EN FRANÇAIS, SÉLECTIONNEZ DANS LE TRADUCTEUR E

N HAUT A GAUCHE ANGLAIS PUIS FRANÇAIS