A natural at singing, rapping, and crafting hooks, SaintAhmad is a versatile artist who can do it all. He radiates natural charisma and infectious energy, busting out dance moves and flashing a big smile while commanding the spotlight. Born in Tashikawahi-shi, Tokyo, Japan, Ahmad first discovered his love for singing and performing while at church and holds a BFA in Dance from Florida State University. As an out-and-proud gay man, his music reflects the confidence and empowerment that comes from being his true and authentic self.
SaintAhmad's debut single "It's Just Me" is a svelte-smooth record that leaves the listener hanging on every word and note. "I really wanted to highlight myself with this record, feel good being myself, and just enjoy life. It's a feel-good record that is about young love, being free, and enjoying your time together with that person. This record is meant to show the confidence in myself to 'Just Be Me' and nothing else." The track drips with swagger, funk-fueled R&B soundscapes, and earnest lyricism. Acclaimed jazz/funk artist Aidan Paul adds his touch on this undeniably catchy and vivacious record. Ahmad's powerful, soulful vocals stand out in the mix, providing movement and rhythmic flow that play off the old school inspired hip-hop beat. His youthful exuberance draws the listener into his world, and this, combined with the versatile, innovative production makes you feel like not only are you going on a journey, but it's a trip worth taking.

His second single "Clouds" is a vibey, feel-good song that explores SaintAhmad's feelings as he lets go of the pressures from the pandemic and the concept of his sexuality as it relates to smoking weed. I wrote this record via zoom during the pandemic. I was quarantining down in Miami and honestly smoking a lot of weed to cope with the realities of graduating college during the pandemic. When I'm in Miami I always feel so sexy, there's something about the sun, the air and the vibe. I'm always in a speedo and just feeling the best about myself and my body.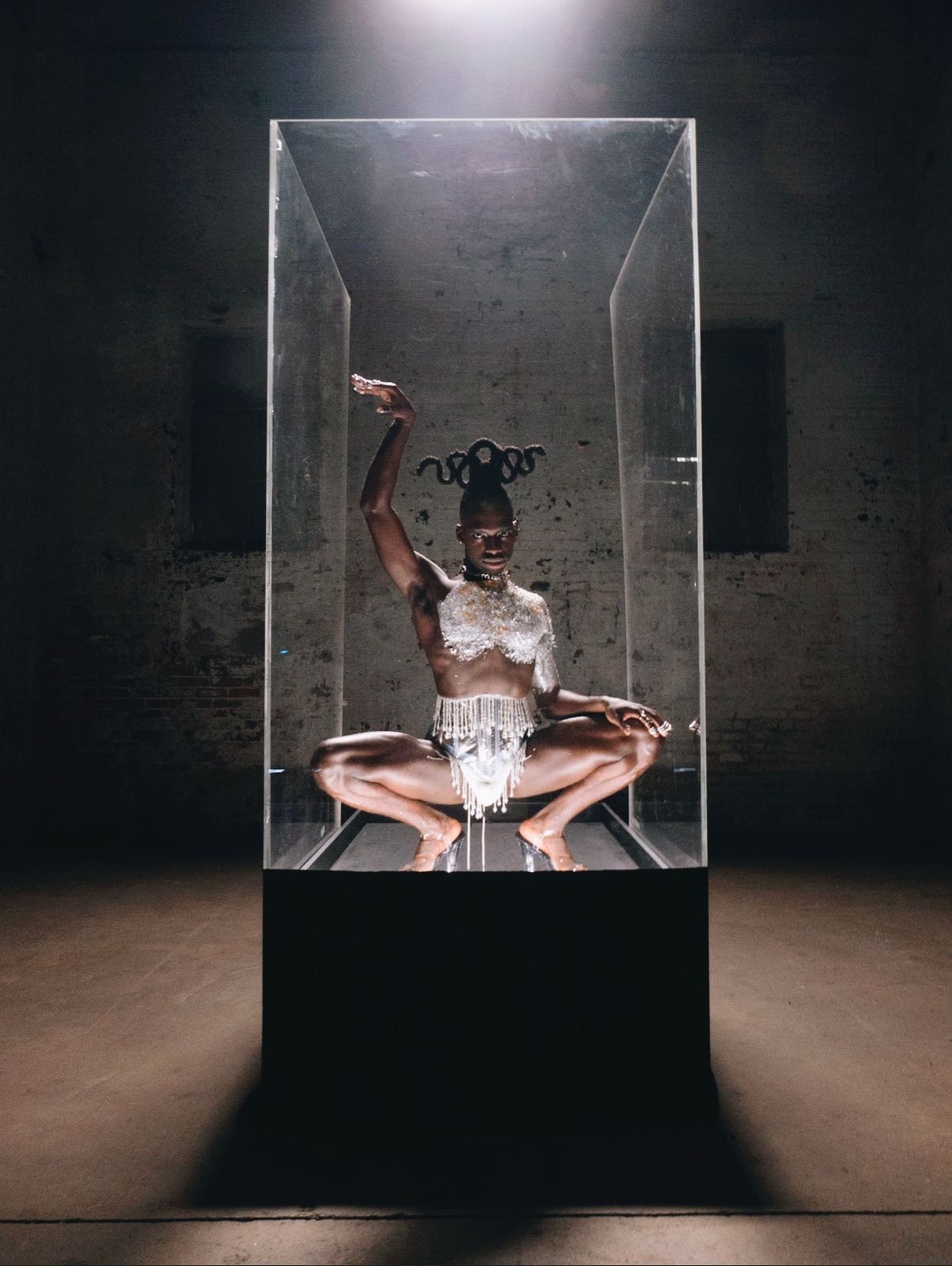 "Slow" is provocative and empowering, dripping with sultriness, style, and rich, hypnotic dancer soundscapes, and SaintAhmad confides, "With every record that I work on I want to touch on the fact that I am multifaceted and capable of so much. I currently work as a go-go dancer at Q-Club in Hell's Kitchen New York and It's my dream job. Every night I'm there I get to feel sexy, make money and entertain the crowd. I really wanted to express that on this record and even create a strip club in the video, which was filmed in the living room of my apartment. 'Slow' is a stripper anthem that you hear at the club around 2 am when you're lit and feeling yourself. You get to shake ya ass and even make some cash!"
SaintAhmad's upcoming single "BEAST" is about "rising above any situation that you feel has withheld you from reaching your truest potential. I've always called myself a beast because of my determination, drive and dedication to this artist life. Now, I get to share what I've been through that's made me into the beast that I am today."
SaintAhmad's musical influences include Tyler the Creator and Frank Ocean, and he has genre fluidity that definitely puts him in the same lineage as these experimental thinkers.