"We were raring to go," says W. H. Lung's Tom Sharkett of the band's desire to keep the momentum going after the huge success of their debut album 2019's Incidental Music, a vivacious concoction of krautrock, synth pop and infectious grooves, which topped end of year lists with the likes of Piccadilly Records and Resident. However, it quickly became apparent that a repeat performance was of no interest to the band.
"We were 100% sure on it not being Incidental Music part 2."
The resultant 'Vanities' is a bold electronic leap forward into the dance music they love. A record that is direct, punchy and potent - an ode to the dance floor that they had missed over the last year or so. Singer Joe Evans explains. "We wanted to move away from easing people in and grab them by the heart straight away. I reflected on how we played live shows and romanticised about launching onto the stage in a bundle of energy and starting the party, no messing. The directness comes from making music more intuitively, and more from a place of fun. We were writing music that affirmed how much we missed dancing in sweaty rooms, enjoying the company of a collection of beautiful friendly strangers."
'Pearl in the Palm' is the first single. "
A transition from the old W. H. Lung to new,
"
says Tom. It marries pulsing synths, galloping drums and a vocal take that is both caramel smooth but also fervently intense. Directed by Joe himself, the
video was shot in January across the beauty of the Irish midlands in Co. Offaly and Co. Laois. "
Another source of inspiration for the album was getting out into nature
,"
he reveals. The core songwriting duo had moved from Manchester to Todmorden before lockdown and enjoyed the Calder Valley scenery. "
Sitting with and walking in the abundance of the natural world has fed into some of the playfulness and light spirit of the album
."
"
The story of the video speaks to that connection with nature so everything was shot outside, in the rain, in the cold, in the quiet of the early morning. There's water, there's forest, there's bog, there's a donkey. We wanted to say something about creative expressiveness too, which comes through in the amazing outfits. I think there's also something in the video about spontaneous living and flowing with the unexpected. Like, a balloon? I'll have a day out with it
!"
Perhaps most remarkable thing about 'Vanities' - aside from the unflinching new sonic leaps it takes - is that the band have taken a dormant year void of live experiences, sweaty clubs, or anything resembling fun times, and have made an album that makes that world feel palpable – that you can crawl inside it.
"
Lockdown gave me the time to pour work into myself and out came this wonderful album," reflects
Joe
. "It was strange at first and I missed seeing my mates and having a laugh and dancing but this album is a direct reflection of creative flow brought on by the space given to us
."
'

Vanities

'
is a very rare beast of a record: an album created in solitude that feels bursting with vitality and the love, promise and transcendence of shared dance floor experiences. Just in time for when we crave those the most.
W. H. LUNG - NEW ALBUM 'VANITIES' OUT 3RD SEPTEMBER.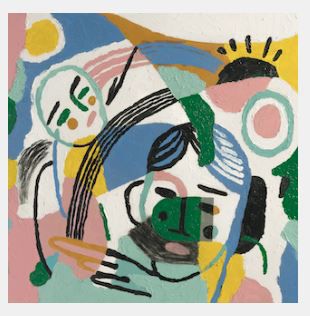 NEW SINGLE 'PEARL IN THE PALM'
Website • Instagram • Facebook • Twitter
'Vanities'
Tracklisting

1. Calm Down
2. Gd Tym
3. Pearl In The Palm
4. Ways Of Seeing
5. ARPi
6. Showstopper
7. Figure With Flowers
8. Somebody Like
9. Kaya
Live dates:
31 Jul - Deershed Basecamp, Yorkshire
8 Aug - Get Together, Sheffield
2-5 Sep - End Of The Road Festival
16 Nov - Scala – London
13 Dec - Brighton - Concorde 2
14 Dec - Birmingham - Hare + Hounds 2
15 Dec - Leeds - Brudenell Community Room
16 Dec - Glasgow - The Hug + Pint
17 Dec - Manchester - Gorilla
18 Dec - Bristol - Rough Trade

Praise:
"This deliberate blurring of high and low culture is part of the appeal, their songs juxtaposing simplicity with free-ranging experimentation. But even more key is their ability to seamlessly meld genres – krautrock, post-punk and synthpop, most prominently – to create songs that are fresh and exciting yet familiar-sounding and accessible." The Observer

"a heady rush of post punk and synth pop, a mix of Joy Division, New Order, LCD Soundsystem with a gust of 70s Berlin... the result is immaculate" 4/5 Q

"an electro-gliding beauty" 4/5 MOJO

"Superb debut" 8/10 Uncut

"This is stunning work" 9/10 Loud & Quiet
Joe Evans – Vocals / Tom Sharkett – Guitar / Alex Mercer Main – Drums / Hannah Peace - Synths + Vocals / Chris Mulligan - Bass + Synths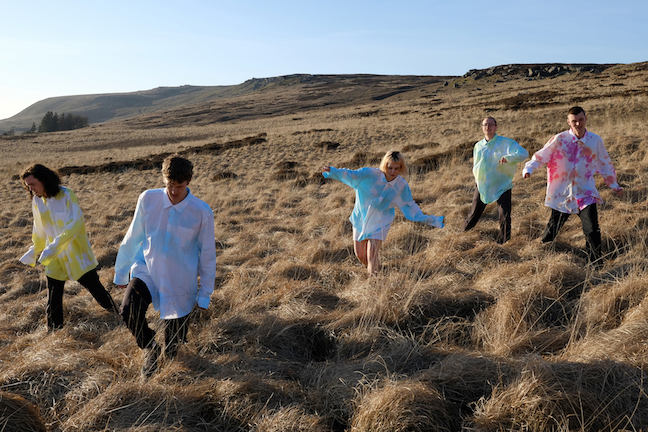 ©
Layout :
Selection Sorties
...
FR 2017
•
2021

Transmitter
:
Melodic Records
©
Photo Adrian Davies
DIFFUSION June, 10, 2021