Johor Bharu, 17 March 2022: Malaysian Super League champions Johor Darul Ta'zim Football Club (JDTFC), today announced a new strategic collaboration with Universal Music South East Asia (UM SEA) and Def Jam Recordings SEA for the release of "Pioneers", the club's official 2022 theme song, created and performed by global hip-hop icon Snoop Dogg and Joe Flizzow, one of Malaysia's most popular and acclaimed rappers, who also serves as President, Def Jam Recordings SEA. The track, forms part of JDTFC's wider global branding strategy, developed in partnership with UM SEA.
Universal Music Malaysia will be the exclusive music distribution partner for the single, which will be available on digital streaming platforms worldwide, from tomorrow 18th March 2022. The track's inspirational tone will allow for fans to channel and appreciate the essence of JDTFC's values of winning-mentality, innovation, discipline, and excellence at the highest level.
HRH Major General Tunku Ismail Ibni Sultan Ibrahim, Crown Prince of Johor and owner of JDTFC, and Kim Lim, MD of Universal Music Malaysia signed the distribution agreement at the Sultan Ibrahim Stadium, JDTFC's 40,000 capacity home ground, symbolizing another historic milestone in JDTFC's journey to become a global recognized football team with a growing international fanbase.
"Pioneers" was performed by Snoop Dogg and Joe Flizzow and produced by SonaOne with lyrics inspired by JDTFC's tireless efforts in setting new football standards in Malaysia and the success that have come on and off the pitch since 2013. The vocals were recorded in Los Angeles and Kuala Lumpur, with mixing and mastering completed in Los Angeles.
HRH Tunku Ismail Ibni Sultan Ibrahim, Owner, Johor Darul Ta'zim Football Club said, "Universal Music Group is the largest music company in the world with a very rich history of award-winning artists and great music that have shaped the entertainment industry for almost 100 years. Having a phenomenal hip hop legend like Snoop Dogg to perform JDT's 2022 official theme song with our Johorean artiste, Joe Flizzow is truly an amazing collaboration. We hope that "Pioneers" will mark the beginning of many more collaborations between JDT and Universal Music in the years to come."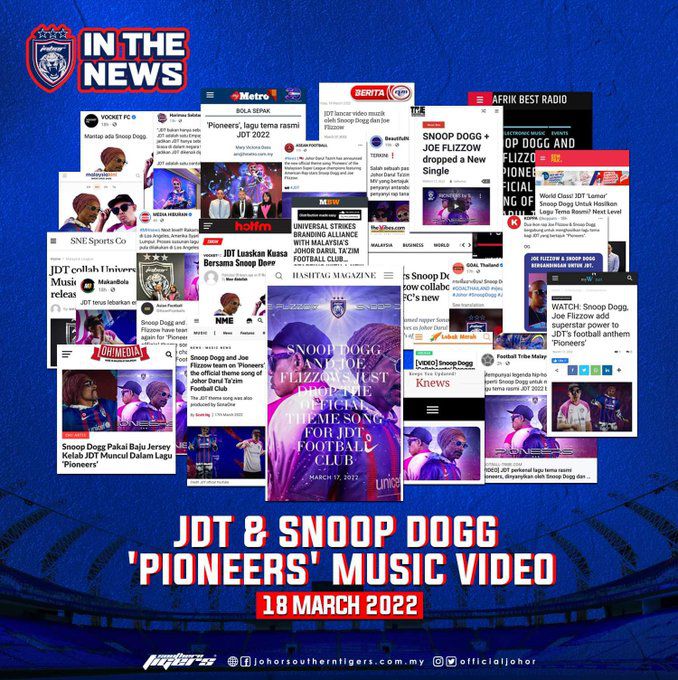 Calvin Wong, Universal Music Group's CEO, Southeast Asia & SVP, Asia commented, "We are honored to partner with Johor Darul Ta'zim Football Club for this groundbreaking initiative. The experience and creativity of Universal Music SEA and Def Jam Recordings SEA's teams of artists and executives will help expand the legacy of JDTFC and cultural impact of our artists, not only in Malaysia and South East Asia, but around the world. We are truly proud to play a part in JDTFC's global brand strategy and hope our artists will unite JDTFC's fans globally through music."
Kim Lim, MD of Universal Music Malaysia remarked, "Artist collaboration is one of the biggest creative forces driving music and brands today. The beauty of this unique partnership with JDTFC is that we can provide breakthrough opportunities for local artist and upsurging homegrown brand with international superstar like Snoop Dogg. I believe this collaboration can open up a whole new world of sounds, styles and opportunities between Universal Music Malaysia and JDTFC in future seasons."
The music video for "Pioneers" which premiered during today's event will be available on all JDT Official Social Media accounts & JDT TV's YouTube channel from March 17, 2022. For more information, please visit www.johorsoutherntigers.my and subscribe to JDT's social media accounts.
About Johor Darul Ta'zim Football Club
The seismic rebuilding of football in Johor has seen JDTFC become a reputable force, all since the Crown Prince of Johor took charge ahead of the 2013 season. Today, JDTFC are one of Southeast Asia's most ambitious clubs with facilities that rival some of the best teams in the continent, and success has been ever-flowing. JDTFC have won a record eight straight Malaysia Super League titles, seven Charity Cups, 2016 FA Cup, two Malaysia Cups and the club's crowning moment in Asia, the 2015 AFC Cup – a first for a club from East Asia. The completion of the state-of-the-art Sultan Ibrahim Stadium in 2020, AFC Champions League football and plans of an even more advanced training ground elevates the club to an even greater standing. Adopting a hands-on approach in operating the club, HRH Tunku Ismail has been in the centre of the tremendous growth the JDTFC brand has enjoyed on and off the pitch.
EAST ASIA
Cultural collaboration will amplify the deep connection between music
and football with the release of "Pioneers"
by Snoop Dogg and Joe Flizzow
as JDT's 2022 Official Theme Song via Def Jam Recordings SEA.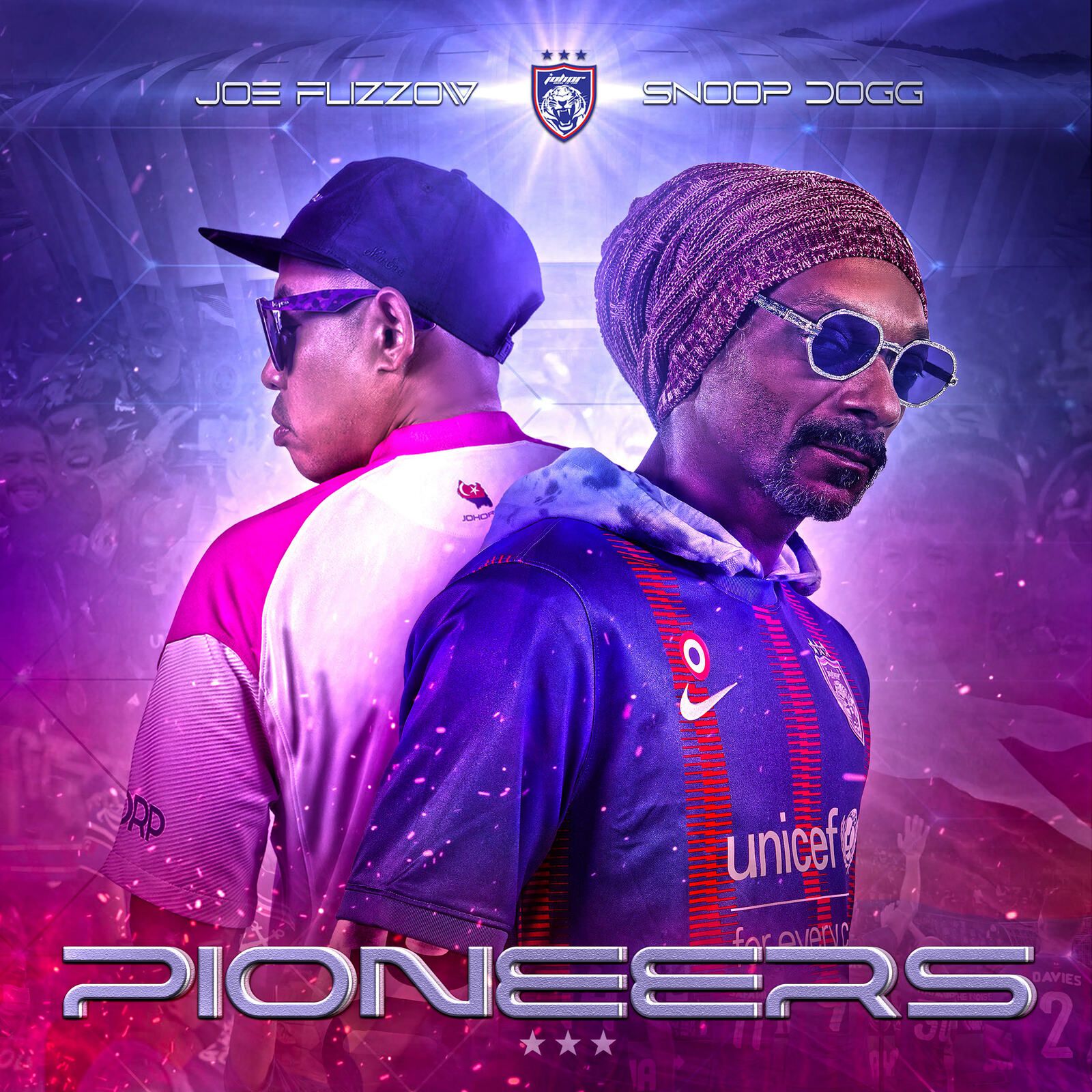 INSTAGRAM • FACEBOOK • TWITTER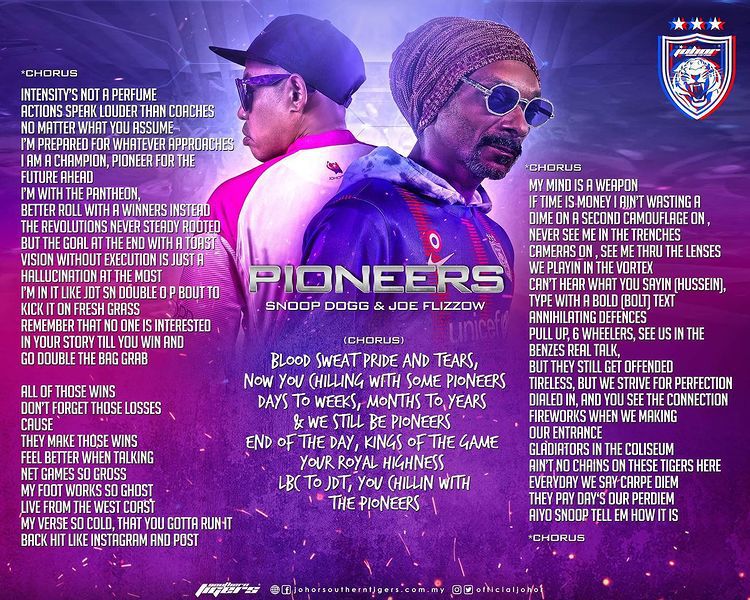 ©
SELECTIONSORTIE
s
...
FR 2017
•
2022
4

BLOG PARTNERSHIP
: CHANTAL REEDER
DISCLAIMER :
Intellectual property.
The ideas, the concept, the layout, the texts are protected,
you can share through the blog interface
• For all requests only by email
selectionsorties@gmail.com
DIFFUSION MARCH, 18, 2022
---